Giveaway: Apocalypse Hop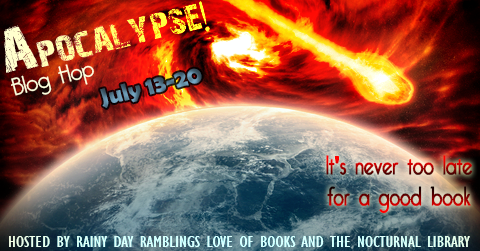 I am excited to be taking part in
the Apocalypse Hop
One of my favorite trilogies The Newsflesh Trilogy is a post-apocalyptic tale filled with zombies and written by one of my favorite authors Seanan McGuire under her pen name Mira Grant. I craved each book and the wait between was killer. Of course the final book was bittersweet as I was torn between knowing and it all coming to an end. So today I want to share my love of this trilogy with you by offer you a chance to win the box set.
The Newsflesh Trilogy by Mira Grant
"Alive or dead, the truth won't rest. My name is Georgia Mason, and I am begging you. Rise up while you can." The year was 2014. We had cured cancer. We had beat the common cold. But in doing so we created something new, something terrible that no one could stop. The infection spread, virus blocks taking over bodies and minds with one, unstoppable command: FEED. NOW, twenty years after the Rising, Georgia and Shaun Mason are on the trail of the biggest story of their lives-the dark conspiracy behind the infected. The truth will out, even if it kills them. The Newsflesh trilogy boxed set includes Feed, Deadline, and Blackout.
Giveaway is open Internationally as long as
Book Depository or Barnes and Noble ship to you.
(see rafflecopter for complete rules)
INT Rafflecopter Giveaway
Labels: Apocalypse Hop, giveaway