1225 Christmas Tree Lane (Cedar Cove #12) by Debbie Macomber
The people of Cedar Cove know how to celebrate Christmas. Like Grace and Olivia and everyone else, Beth Morehouse expects this Christmas to be one of her best. Her small Christmas-tree farm is prospering, her daughters and her dogs are happy and well, and her new relationship with local vet Ted Reynolds is showing plenty of romantic promise. But…someone recently left a basket filled with puppies on her doorstep, puppies she's determined to place in good homes. That's complication number one. And number two is that her daughters Bailey and Sophie have invited their dad, Beth's ex-husband, Kent, to Cedar Cove for Christmas. The girls have visions of a mom-and-dad reunion dancing in their heads. As always in life—and in Cedar Cove—there are surprises, too. More than one family's going to have a puppy under the tree. More than one scheme will go awry. And more than one romance will have a happy ending!(synopsis from Goodreads)
1225 Christmas Tree Lane is the last novel in the Cedar Cove series by Debbie Macomber. I was sad to see this series come to an end. I have many fond memories of this small town and the residents who reside there. I was looking forward to this final book and it's holiday setting. I am sorry to say, that I was disappointed in Cedar Cove's closing act.
The novel is basically a re-cap of prior stories, giving the reader an update into past character's lives. It also tells the tale of Beth Morehouse and her ex-husband Kent. Their two college age daughters decide to do a little matchmaking. They devise a plan to reunite their parents for Christmas. The plot was predictable and cute, but was so bogged down by the recaps and prior characters, that I found myself skimming pages. Macomber tried to work all of her past characters into the novel through ten orphaned puppies, but with sixty plus characters to mention, this made the tale cumbersome. I would have preferred a novel more focused on Beth and Kent. She could have included a letter in the back of the book updating us on our favorite characters. Perhaps written by the judge telling us about the folks in Cedar Cove. Ah, well.
I loved the Cedar Cove series and recommend it to anyone who enjoys small-town and contemporary romances. 1225 Christmas Tree Lane just didn't do it for me and felt more like the credits at the end of a movie, with a short heart-warming story nestled somewhere in the middle. I am looking forward to Macomber's next series. This book is available in both paper and digital formats.
I gave this book 3 coffee cups out of 5.
Kimba
Author's website: Debbie Macomber
Buy at B&N by clicking on cover below: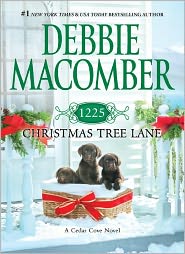 Labels: adult-fiction, Cedar Cove series, contemporary romance, Debbie Macomber