Hidden Summit (Virgin River #17) by Robyn Carr
ROMANCE UNDER CONSTRUCTION…
Sick of running into her cheery ex-husband and his new wife, Leslie Petruso accepts a job at the Virgin River branch of Haggerty Construction and takes the high road right out of town. Now she's got Paul Haggerty's business running like a well-oiled machine. In fact, things are so busy Paul jumps at the chance to hire an extra set of hands. Just like Leslie, Conner Danson has been burned by love. But if Leslie was disappointed by her relationship going bad, Conner was decimated. He's got no time for women…although he spends an awful lot of time pretending not to notice Leslie. And she's pretty busy "ignoring" the chemistry between them. According to Conner and Leslie, they have only one thing in common—they're done with love. But everyone in Virgin River can see that things are heating up at Haggerty Construction. And as far as Paul Haggerty can tell, the best thing he can do is hang on to his hard hat and watch the sparks fly!(Synopsis from Goodread

s

)
I pre-ordered Hidden Summit and was ecstatic when it appeared on my Nook Tablet. As I have stated before this is one of my favorite contemporary romance series. Carr has a gift for spinning delightful tales about this small California mountain town. Each time I visit, she brings fresh characters and a storyline that captures me from page one.
In Hidden Summit we meet two new strangers. First we meet, Leslie Petruso, who needs a fresh start after her divorce. She is a spunky blonde, who has no trouble handling men at the job site; but on the inside her self-confidence is in ruins. Next we meet sexy, hard-working, blue-eyed Conner Danson. He is the only witness to a violent crime. After his business is burned to the ground and his life threatened the DA arranges for him to hideout in Virgin River until the trial. Alone and with way too much time on his hands, Conner begins to access his priorities. Both have suffered from prior relationships and are trying to regroup. The chemistry between them is immediate, believable and smokin'. Carr amps up the loves scenes in this novel and she does so beautifully.
One of the things I love about the town of Virgin River is the way in which the community comes together to protect their own. Unlike a lot of small towns, they immediately welcome Leslie and Conner into their fold. While the main focus of the story is Conner and Leslie, we get to know more about the comings and goings of the town. We reconnect with the young mother of two, whose husband drops her in Virgin River and leaves. The town drunk is finally getting her happily-ever-after and we meet up with plenty of familiar faces at Jack's tavern.
There were quite a few twists and turns in Hidden Summit, that kept me turning the pages. I finished this in one evening, simply because I couldn't put it down. I highly recommend this series to fans of small town romances and feel good series. While some of the stories have made me shed a tear; for the most part I walk away from my visit feeling good and anxious to return.
I am delighted to inform you that I have received an ARC of Carr's next book in the series, entitled
Redwood Bend
. It is expected to be published February 28
th
, 2012. I will share my review with you in early February.
I gave this 5 coffee cups out of 5
Kimba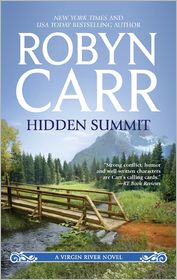 or at Amazon here:
Labels: contemporary romance, Robyn Carr, small-towns, Virgin River Series