The Sunday Post ~sharing blog news and book haul
The Sunday Post ~ 28th Edition
The Sunday Post is a weekly meme hosted by

Kimba the Caffeinated Book Reviewer

~ It's a chance to share news~ A post to recap the past week on your blog, showcase books and things we have received and share news about what is coming up on our blog for the week ahead.
I spent most of the week sick, which wasn't any fun, but I am recovered and excited for the month ahead.
Things that Go Bump in the Night
has come to an end, although some giveaways are still open; so be sure and enter. Congrats to all the winners and a heartfelt thanks to all the sponsors who made it possible. There is a new event I am co-hosting in February called
Fiery Hot Reads for Icy Cold Nights
and you can join in the fun. So be sure and check it out.
Last week on the Blog I brought you:
This week on the blog look for:
The Kingdom by Amanda Stevens (review)
Death and the Girl Next Door by Darynda Jones (review-giveaway)

Waiting on Wednesday

The Promise by Kate Worth (review and awesome giveaway)
My Kind of Christmas by Robyn Carr (review)
Owelet by Emma Michaels (excerpt, guest post, giveaway)
Around the Blogosphere:
Be sure and sign up for this exciting blog hop in February. Click on image for details. I am super excited to be co-hosting this event with 4 fabulous bloggers: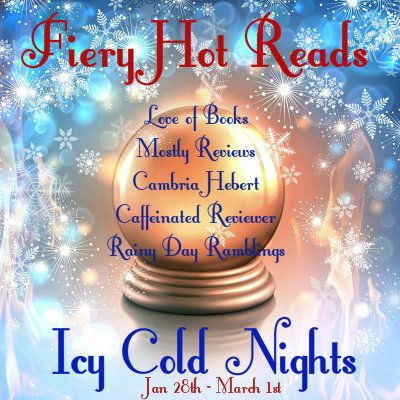 Check out Christina's review and giveaway of Renegade by J.A. Souders @ A Reader of Fictions and tell her I sent ya :) It is hilarious!
I am still giggling after watching the video on how to download Romance ebooks, go, go check out Fiction Vixen Book Review's Friday Funnies.
For Review:
courtesy of Entangled Publishing
courtesy of Twisted Literary
Fear Collector by Gregg Olsen
courtesy of Kensington Books
Guardians of Stone by Anita Clenney
courtesy of author and Montlake Romance
A Most Scandalous Proposal by Ashlyn Macnamara
courtesy of Random House/Ballantine books
Stitch by Samantha Durante
sent to me by author
Chantress by Amy Butler Greenfield
courtesy of Simon and Schuster
Gifted or Won:
Incarnation by Emma Cornwall
won from Drey @ Drey's Library
Nowhere to Hide by Nancy Bush
You Don't Want to Know by Lisa Jackson
What Happens at Christmas by Victoria Alexander
thanks to the lovely people at Kensington Publishing
The Athena Effect by Derrolyn Anderson
won from Meg @ A Bookish Affair and author
along with this necklace and signed cover tag:
I won a signed copy of Spare Change by Bette Lee Crosby
from Sherry @Fundinmental As Eye See It and the author
included a lovely letter. I loved this book and gave
it 5 cups of coffee. I may give this up as a giveaway or a special Xmas
gift, since I own a copy of my own :)
Purchased or Downloaded:
That's my week.
Link-up and share your news!
Labels: blog news, blogger community, book haul, Entangled Publishing, Kensington Books, Montlake Romance, random house, Simon and Schuster, Sunday Post, Twisted Library