Review:The Harvesting by Melanie Karsak (giveaway)
Today I am excited to share my review of The Harvesting by Melanie Karsak and a giveaway as part of the BB Blog Tour team. Enjoy!
The Harvesting
by Melanie Karsak
Series: Harvesting: Volume 1
Publication date: September 18, 2012
Genre: Horror
Purchase: Barnes and Noble/Amazon
It's all fun and games until someone ends up undead. Though Layla reluctantly returns home to rural Hamletville after a desperate call from her psychic grandmother, she could never have anticipated the horror of what Grandma Petrovich has foreseen. The residents of Hamletville will need Layla's help if they are to survive the zombie apocalypse that's upon them. But that is not the only problem. With mankind silenced, it soon becomes apparent that we were never alone. As the beings living on the fringe seek to reclaim power, Layla must find a way to protect the ones she loves or all humanity may be lost.
When I finished this book I just sat back with my mouth hanging open and basked in its glow. Labeled as horror or zombie book, The Harvesting is so much more. Karsak has blended lore, paranormal creatures and fantasy into this post-apocalyptic zombie infested world. The tale is gripping and I became completely enthralled. This may very well be one of my top ten reads for 2013 and I cannot wait for the next book.
Layla is living successful in New York and from the onset we realize she is kick-ass. When she gets a weird phone call from her psychic grandmother telling her to return to Hamletville, she reluctantly drops everything and returns. Upon arrival she discovers a chain link fence around the remote property and the windows are all boarded up. Her grandmother hands her a massive shopping list from food to holy water. Despite her requests for answers she obeys and gathers the items from the towns' merchants. A mass epidemic of the flu is spreading across the country and as Layla and her grandmother watch events unfold on television her grandmother tells her it is the harvesting and she must be prepared to help the town. The tale that unfolds is riveting with twists and turns that kept me spellbound.
I completely adored Layla, she is bright, compassionate and a born leader. This totally kick-ass protagonist is more gifted then she realizes and I loved watching her figure things out. I have decided that if there is ever a zombie outbreak I want to be in this small town when it happens. The townsfolk really rallied together and while I did not get to know a lot of them individually the author gave me a lasting impression of them. Ian and his brother Jamie play a significant role in the tale and are both vying for Layla. While there is a romance and it felt genuine it took a backseat to the kick-ass action. The strangers that appear and offer them refuge blew my mind, as clues from the book revealed to me who they were and had me wrenching my hands and shouting don't go!
The world-building was epic and brilliant and so absolutely original I am still squealing in delight over it. This is the kind of tale that has twists that will blow your mind! It is tightly woven and very apparent from the onset that the author knows exactly how this tale unfolds. The details and battle scenes were well done and engaging. Did I mention Zombies?!? While we are immersed in this end of the world zombie outbreak, the author is slowly laying out events that foreshadow and prepare us for things to come. The tale seems to wrap up and I begin wondering about book two, when another chapter appears with characters I do not recognize and suddenly I am very aware of the title and its' meaning. Eep, it literally blew my mind and has me in awe of this author and drooling for the next installment.
If you love zombies, post–apocalyptic novels, lore and supernatural elements then you really must need to read The Harvesting. Melanie Karsak has woven the beginnings of a tale that will draw you in and I cannot wait to see what the next book delivers.
I want to thank the author and BB Book Tours for providing this ARC in exchange for my unbiased review.
Four and half cups of Kona coffee out of five
Win a t-shirt( back shown, cover on front), signed copy of The Harvesting,
5 bookmarks, I bumper sticker
Just enter the US only rafflecopter below:
I gotta tell you, I am a little jelly ..I would love to win this prize package..good luck!
Today's

Fiery Hot Reads for Ice Cold Nights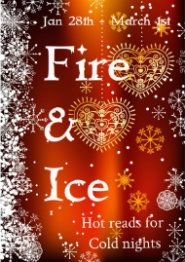 Check out these awesome posts and giveaways! Each day different blogs will be participating so be sure to check in daily for your chance to win and discover new Fiery hot reads!
Labels: BB Blog Tours, horror, Melanie Karsak, zombies