The Sunday Post ~sharing blog news and book haul
The Sunday Post ~ 32nd Edition
The Sunday Post is a weekly meme hosted by

Kimba the Caffeinated Book Reviewer

~ It's a chance to share news~ A post to recap the past week on your blog, showcase books and things we have received and share news about what is coming up on our blog for the week ahead.
Hello my Caffeinated Book Loving Peeps!
Welcome to the first week of December! I know this is a crazy time of year with exams, work, baking, shopping and family but be sure and make a little time for yourself. Grab a good book, a nice warm cup of your favorite beverage and spend some time relaxing. It's very easy to get run down and overwhelmed this time of year..so enjoy and spread the holiday cheer!
Last week on the blog I brought you:
This week on the blog look for:
Cupid's Christmas by Betty Lee Crosby (review/giveaway)
Guardians of Stone by Anita Clenney (review)

Waiting on Wednesday

Wisdom of the House of Night Oracle Cards (review)

Fate's Mirror by M.H. Mead (review)
Compromising the Marquess by Wendy Soliman (blog tour/review/giveaway)
The Winter Wife by Anna Campbell (guest post/review)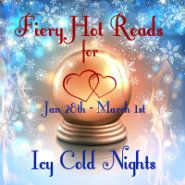 Around the Blogosphere:
courtesy of HarperTeen
The Darkest Mind by Alexandra Bracken
courtesy of Disney Hyperion
Shadowlands by Kate Brian
courtesy of Disney Hyperion
Fathom by Merrie Destefano
courtesy of author
courtesy of St. Martin Press
What Happens in Scotland by Jennifer McQuiston
courtesy of HarperCollins
Gifted or Won:
His Yankee Bride by Rose Gordon
gifted to me by author
I won autographed copies of
along with a set of Yankee candles which haven't arrived yet
from her Facebook giveaway.
Purchased or Downloaded:
Labels: blog news, Disney Hyperion, Fern Michaels, HarperCollins, HarperTeen, meme, Merrie Destefano, Rose Gordon, St. Martin, Sunday Post