The Sunday Post #41 ~sharing blog news and book haul
The Sunday Post ~ 41st Edition
The Sunday Post is a weekly meme hosted by

Kimba the Caffeinated Book Reviewer

~ It's a chance to share news~ A post to recap the past week on your blog, showcase books and things we have received and share news about what is coming up on our blog for the week ahead.
I read 30 books in January, 21 of which were ARC's for a challenge hosted by Kerry@ Musings of A Bookworm. Kerry's site has since shut down due to illness and I hope that she is doing well. The Fiery Hot Reads for Icy Cold Nights is well underway and I hope you are all having fun hopping and entering to win great books! Have a delightful week!
Last week on the blog we brought you
This week on the blog look for
Austensibly Ordinary by Alyssa Goodnight (review-giveaway)
Hysteria by (review)
What Happens In Scotland by Jennifer McQuiston (review)
Nobody's Angel by Stacey Gail (review-giveaway)

Wicked Valentine's Read-a-thon Goals

Run the Risk by Lori Foster (review-giveaway)
Coffee Pot Reviews of The Coincidence of Callie and Kayden by Jessica Sorensen and Someone to Love by Addison Moore
Around the Blogosphere
Fiery Hot Reads for Icy Cold Nights has started, stop by the blog daily for a list of participating blogs and be sure and enter all the giveaways. It's not to late to add your blog! This event runs through March 1, 2013.
New arrivals to the Caffeinated Cafe
now that my beloved Virgin River series has ended.
Savage Angel by Stacy Gail
thanks to Carina Press/Harlequin
Day After by Emi Gayle
courtesy of J. Taylor Publishing
All That Is Necessary thanks to author Jennie Coughlin
Spellbinding by Maya Gold
courtesy of Scholastic
Gifted or Won:
Wicked Wives gifted to me
by author Gus Pelagatti
Purchased or Downloaded:
Today's Stops on the Fiery Hot Reads for Ice Cold Nights Hop
Check out these awesome posts and giveaways! Each day different blogs will be participating so be sure to check in daily for your chance to win and discover new Fiery hot reads!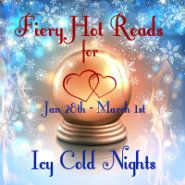 Jenifer@
Under A Gray Sky
: The Secret History of the Pink Carnation: Lauren Willig
Have an Awesome Book Filled Week!
Link up and share your news:)
Labels: blog news, book haul, Gus Pelagatti, Harlequin, J. Taylor Publishing, Jennie Coughlin, Scholastic, Sunday Post