The Sunday Post #42 ~sharing blog news and book haul
The Sunday Post ~ 42nd Edition
The Sunday Post is a weekly meme hosted by

Kimba the Caffeinated Book Reviewer

~ It's a chance to share news~ A post to recap the past week on your blog, showcase books and things we have received and share news about what is coming up on our blog for the week ahead.
Oh boy..I have been reviewing ARC's like a mad-woman and have almost reached the end of my two month mishap. You see I broke my own rules about not accepting more than two books for review a week. Somehow the authors and publishers tempted me with shiny covers. *nods head* So for the months of January and February I found myself with four books a week for review. *gasps* At this moment I have one book left for February and then it will be time to read all of the new releases I snagged the past few weeks. *bounces* Have an awesome week and I hope you have been enjoying the Fire and Ice hop..so many shiny books to win!
Last week on the blog we brought you
This week on the blog look for
Wicked Valentine's Day Ball Challenge for Wicked Read-a-thon particpants
There Once Lived a Girl Who Seduced Her Sister's Husband, and He Hanged Himself: Love Stories

by Ludmila Petrushevskaya (review-giveaway)

Water Witch by Juliet Dark (review)
Coffee Pot Reviews of: Love is Blind by Elizabeth Cole and Radiant by Cynthia Hand (reviews)
Love and Other Perishable Items (review-giveaway)
The Importance of Being Wicked by Victoria Alexander (review-giveaway)

Caffeinated Confessions- What kind of reader are you?
Around the Blogosphere
Fiery Hot Reads for Icy Cold Nights has started, stop by the blog daily for a list of participating blogs and be sure and enter all the giveaways. It's not to late to add your blog! This event runs through March 1, 2013.

Lola @ Lola's Reviews interviewed me for her Blogger Interview Post
Renea a@ Respiring Thoughts talks about The Bookish Comfort Zone
Melissa @ Mochas, Mysteries and More got a make-over go check it out, and while you are at it check out some of the Cozy mysteries she has reviewed.
New arrivals to the Caffeinated Cafe
by Helene Wecker thanks to Harper publishing
I am over the moon excited to read this one!
Maid of Secrets by Jennifer McGowan
for Simon & Schuster blog tour
The Ashford Affair by Lauren Willig
thanks to St. Martin Press
Gifted or Won:
Shadow of Time by Jen Minkman
won from Maggie @Reading Diva
Purchased or Downloaded:
Today's Stops on the Fiery Hot Reads for Ice Cold Nights Hop
Check out these awesome posts and giveaways! Each day different blogs will be participating so be sure to check in daily for your chance to win and discover new Fiery hot reads!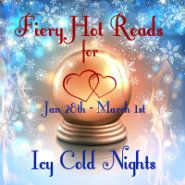 Peace, Love and Books!
link-up :)
Labels: amazon, blogger community, book haul, Harper publishing, Simon and Schuster, St. Martin's Press