Review/Giveaway: The Importance of Being Wicked by Victoria Alexander
Today is my stop on the Fiery Hot Reads Blog Hop which I am delighted to be hosting along with Heidi@Rainy Day Ramblings, Cambria @Cambria Herbert, Christy @Love of Books and Veronica @Mostly Reviews
The Importance of Being Wicked
by Victoria Alexander
Series: Millworth Manor
Publisher: Kensington
Publication date: February 5, 2013
Genre: Historical Romance
Purchase*: Barnes and Noble/Amazon/Book Depository
In this dazzling new novel, #1 New York Times bestselling author Victoria Alexander welcomes you to Millworth Manor, a delightful English country estate where love is always perfectly at home… For Winfield Elliott, Viscount Stillwell, finding a prospective bride always seemed easy. Perhaps too easy. With three broken engagements to his name, Win is the subject of endless gossip. Yet his current mission is quite noble: to hire a company to repair his family's fire-damaged country house. Nothing disreputable in that—until the firm's representative turns out to be a very desirable widow. Lady Miranda Garrett expected a man of Win's reputation to be flirtatious, even charming. But the awkward truth is that she finds him thoroughly irresistible. While Miranda resides at Millworth to oversee the work, Win occupies her days, her dreams…and soon, her bed. For the first time, the wicked Win has fallen in love. And what began as a scandalous proposition may yet become a very different proposal…
I was very excited to read The Importance of Being Wicked after reading Alexander's delightfully witty novel What Happens At Christmas, as the hero in this novel was introduced there. This was a delightful romance, filled with witty banter, romantic angst and fleshed out characters. I quickly became wrapped up in the characters and their story.
Winfield Elliot the Viscount of Stillwell awakens to find his beloved country home on fire. Thankfully he and members of his household are all accounted for. Their home has held a Midsummer Ball every year and he is determined that this year shall be no different and sets out to hire a company to restore the home to its original grandeur. He hires a firm of impeccable reputation but his world is turned upside down when the firm's representative turns out to be the widow, Lady Miranda Garret. The two of them quickly clash and he sets out to learn more about her and her company. Lady Miranda knows of Win's three broken engagements and his wicked reputation but she needs this job to help restore the coffers of her late husband's company Garret and Tempest. The tale that unfolds is filled with angst, sexual tension and delicious banter.
This is the third novel I have read by Alexander and one of the things I have come to love about her is her characters. The women are feisty, smart and opinionated. The men are all misunderstood rogues which we all know make for the best husbands. Lady Miranda has been widowed for three years and is keeping secrets from her family. I really clicked with her, and laughed as she battled with Win. It was delightful to get Win's story. He is a noble chap, despite his reputation and completely flawed. I actually didn't find him very wicked at all and think his reputation is all rumor. He thinks a woman belongs at home and ooh does this create tension between the characters. Like a lot of men I know the more he tried to say the right thing the worst the situation becomes and I found myself giggling at his predicament. I loved how old characters are introduced and while this is certainly a standalone, it was lovely that the author included them. I enjoyed Miranda's meddling sisters and Win's mother was a hoot.
With well fleshed out characters and the delicious chemistry between Miranda and Win, I was completely held captive by the tale. I will confess at times I was frustrated by the mounting obstacles between Win and Miranda. I loved the wicked banter and attraction between them. The secrets and pig-headedness from both characters was funny and at times annoying. I have always liked slow-building romances and Alexander delivered this splendidly. There were a few hot moments, but the couple didn't experience their first kiss until over half-way. I would have liked to things to develop a little sooner and wish Win's "wicked" reputation had been a little more earned.
The Importance of Being Wicked was a delightful historical romance with witty characters. Lord Stillwell's Excellent Engagement is a novella that showcases Winfield Elliot and his three previous engagements and can be found in the back of this novel as a bonus.
I want to thank Kensington for providing this ARC in exchange for my unbiased review.
Three and half cups of Costa coffee out of five
Thanks to Kensington I have an ARC paperback copy of
The Importance of Being Wicked
(which includes the novella

Lord Stillwell's Excellent Engagement)
Open to US /Canadian residents
(enter rafflecopter below)
Today's Stops on the Fiery Hot Reads for Ice Cold Nights Hop
Check out these awesome posts and giveaways! Each day different blogs will be participating so be sure to check in daily for your chance to win and discover new Fiery hot reads!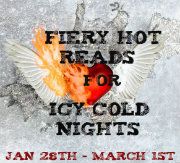 Carolyn@
C.M. Books
: Carolyn Brown: He Came For Mine
Labels: historical romance, Kensington Books, Millworth Manor, Victoria Alexander