Guest Post/Giveaway: Anna Campbell author of Seven Nights in a Rogue's Bed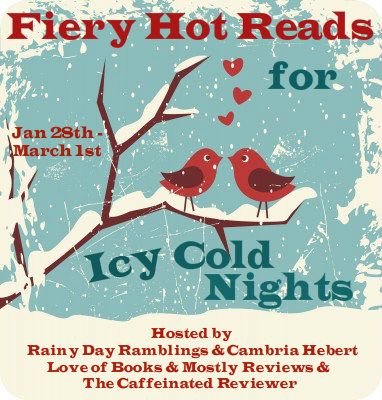 Author Anna Campbell's book Seven Nights in a Rogue's Bed made my 2012 Top Ten Adult Reads list and so I just had to invite her to our Fiery Hot Reads for Icy Cold Nights Blog Hop. A Rake's Midnight Kiss is the next book in the Sons of Sin series and one of my most anticipated reads for 2013. Enjoy and be sure to enter the fabulous giveaway and visit the other hop stops!
Writing THOSE Scenes by Anna Campbell
I'm currently putting the final touches to my next historical romance A RAKE'S MIDNIGHT KISS which features a rakish hero with a passing resemblance to the Scarlet Pimpernel and a virginal vicar's daughter.
While I've really enjoyed the banter between these two, it's been harder than university calculus to get them into bed together (finally managed it – and luckily for my heroine, all good things come to those who wait!). There's the whole respectable woman in the Regency thing, not to mention that this book has a large cast of characters, so even getting Richard and Genevieve alone for an extended period has presented story issues. There's even a long love scene in a crypt – I figured there they had a chance of avoiding interruptions.
All of this maneuvering of characters got me thinking about love scenes in books. Specifically my books. Sometimes getting my characters between the sheets is no difficulty whatsoever (for the writer– in my books, love scenes tend to make the situation between my hero and heroine worse before it makes it better, at least until the blissful ending). Sometimes, it's not so easy – MIDNIGHT'S WILD PASSION springs to mind.
A RAKE'S MIDNIGHT KISS makes quite a contrast to my most recently released book, SEVEN NIGHTS IN A ROGUE'S BED, the first in the Sons of Sin series (perhaps I should have titled Rake A FRUSTRATED SON OF SIN!). In Rogue, my hero and heroine are under one roof and they both know they're going to end up in bed sooner rather than later. There are probably more love scenes in that one than in any of my other books. Perhaps MY RECKLESS SURRENDER could give it a run for its money – that's another one where they know they're going to become biblically familiar within the first few chapters.
So after much contemplation, I've decided that the ingredients for a hot read include:
Hero and heroine under one roof

Heroine, if not rushing to divest herself of her virtue, aware that it's going to happen

Marriage

Some sort of sexually based bargain or arrangement

Lots of opportunity for hero and heroine to be alone (in a crypt if need be!)
My next Sons of Sin book is about a marriage of convenience so I can tick a couple of those boxes, thank goodness. At least that means nice comfy bed love scenes and no dead monks hanging around. I'm looking forward to it (not to mention my non-frustrated hero – although of course, he has other problems that I can torture him with).
A RAKE'S MIDNIGHT KISS is out next September and you can read an excerpt of SEVEN NIGHTS IN A ROGUE'S BED HERE
So do you have a favorite love scene from a romance novel? Extra points if it's somewhere slightly offbeat like a crypt! Rattle dem bones, baby! So we can keep up the fiery hot quotient, I've got a signed copy of SEVEN NIGHTS IN A ROGUE'S BED for one commenter today. Good luck!
Sons of Sin Series -encore review
Seven Nights in a Rogue's Bed
by Anna Campbell
Series: Sons of Sin #1
Publisher: Grand Central Publishing, Forever
Publication date: September 25, 2012
Genre: Adult Historical Romance
Purchase*: Barnes and Noble/Amazon/Book Depository
Will a week of seduction...




Desperate to save her sister's life, Sidonie Forsythe has agreed to submit herself to a terrible fate: Beyond the foreboding walls of Castle Craven, a notorious, hideously scarred scoundrel will take her virtue over the course of seven sinful nights. Yet instead of a monster, she encounters a man like no other. And during this week, she comes to care for Jonas Merrick in ways that defy all logic—even as a dark secret she carries threatens them both.




...Spark a lifetime of passionate surrender?




Ruthless loner Jonas knows exactly who he is. Should he forget, even for a moment, the curse he bears, a mere glance in the mirror serves as an agonizing reminder. So when the lovely Sidonie turns up on his doorstep, her seduction is an even more delicious prospect than he originally planned. But the hardened outcast is soon moved by her innocent beauty, sharp wit, and surprising courage. Now as dangerous enemies gather at the gate to destroy them, can their new, fragile love survive?
Eek Gads this was yummy!
Seven Nights in a Rogue's Bed
sounded sinfully delicious and I was excited to read it.
As Anna Campbell's first book in the Sons of Sin series she dished up a hot steamy tale with wonderful characters and an engaging plot. Reminiscent of Beauty and the Beast I was quickly ensnared in this wicked tale and lost myself in its pages.
Sidonie Forsythe, in an attempt to save her older sister's life, agrees to go in her stead to fulfill a debt. She arrives at the Castle Craven the home of a hideously scarred scoundrel to surrender her virtue for seven sinful nights. Willing to do anything to protect the one's she loves, she braces her back, calms her nerves and prepares to meet this monster. The tale that unfolds was absolutely delightful, positively sinful and kept me turning the pages.
I adored the complex characters we meet in Campbell's novel. Sidonie is brave, opinionated, flawed and has a secret. Jonas Merrick is disfigured and is often referred to as a monster. He lives in solitude and seeks revenge on the ones who betrayed him. He is such a complex man, and Campbell does an excellent job of revealing the many facets which explain his outward personality. The interaction between these two was enthralling to witness. They had me laughing one minute and wanting to clunk them over the heads the next. Watching these two strong personalities try to figure things out was such fun. The romance felt genuine and the characters became three dimensional. Secondary characters helped build suspense and reveal things. We met

Cam Rothermere and Richard Harmsworth, two childhood friends of Jonas and I am anxious to read their stories. Richard's story will be told in the next Son's of Sin novel.
The tale itself captivated me as I turned page after page wanting my happily ever-after. I loved the story behind Sidonie's predicament and why Jonas would even do such a thing. The chemistry between Jonas and Sidonie was absolutely delicious; filled with tension, angst and page melting scenes. This tale delivered seven very steamy, detailed nights in a rogue's bed but it also provided a strong plot filled with suspense. Campbell's writing style is enjoyable and the tale flowed effortlessly. The character of Jonas was wonderfully developed and I adored how she was able to show both the monster and the tender man beneath. This is a book you cannot put down and that leaves you smiling just thinking about it.
I recommend
Seven Nights in a Rogue's Bed
to fans of historical romance with a side of suspense. This was hot! hot! hot! I am looking forward to
A Rake's Midnight Kiss
which will be released August 27, 2013. *faints* My advice: grab this book, a glass of wine, some chocolate truffles and lock yourself away because once you start reading
you'll
be lost.
I want to thank Grand Central Publishing for providing this ARC in exchange for my unbiased review.
I gave this novel 5 steamy cups of coffee out of 5.
I love marriages of convenience ..they always turn out to be such fun! I've pre-ordered A Rakes' Midnight Kiss and you can too: Amazon/Barnes and Noble
Other Campbell books :


Rafflecopter Giveaway
A signed copy of Seven Nights in a Rogue's Bed (INT)
a Rafflecopter giveaway
Today's Stops on the Fiery Hot Reads for Ice Cold Nights Hop
Check out these awesome posts and giveaways! Each day different blogs will be participating so be sure to check in daily for your chance to win and discover new Fiery hot reads!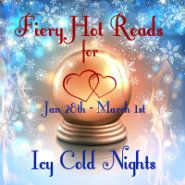 Christy@Love of Books: Marie Landry (Blue Sky Days and The Game Changer)
Labels: 2012 Top 10 Adult reads, adult-fiction, Anna Campbell, historical romance, Sons of Sin