The Sunday Post #43 ~sharing blog news and book haul
The Sunday Post ~ 43rd Edition
The Sunday Post is a weekly meme hosted by

Kimba the Caffeinated Book Reviewer

~ It's a chance to share news~ A post to recap the past week on your blog, showcase books and things we have received and share news about what is coming up on our blog for the week ahead.
My week for hosting Fiery Hot Reads for Icy Cold Nights is this week and I am so excited by all the books and goodies I have to share, be sure to check in daily! *bounces* Bloggers looking to sign up for a Friday or Saturday post can still do so, it is great exposure for your blog. Learn more here: Sign up
Last week on the blog we brought you
This week on the "fiery hot" blog look for
Fiery Hot New Adult for Icy Cold Nights (giveaway)

Omega by (Review-Guest Post-Giveaway)
One Good Earl Deserves A Lover by Sarah MacLean (review-interview-giveaway)
The Better to See You by Kate SeRine (review-guest post-giveaway)

Ann Campbell author of Seven Night's In a Rouge's Bed (guest post-giveaway-encore review)

Unravel Me by Tahereh Mafi

Gilded Wings by Amy Lignor (review-guest post-giveaway)
Around the Blogosphere
Fiery Hot Reads for Icy Cold Nights is really hopping, stop by the blog daily for a list of participating blogs and be sure and enter all the giveaways. It's not to late to add your blog! This event runs through March 1, 2013.



New arrivals to the Caffeinated Cafe
For Review:
Seduction by M.J. Rose
from Atria publishing
Hero of My Heart by Megan Frampton
thanks to Random House
Along Came Trouble by Ruthie Knox
thanks to Random
House
Invisibility by Andrea Cremer and David Levithan *squee*
thanks to Penguin
Gifted or Won:
His Reluctant Rancher by Roxanne Snopek
for review consideration by Entangle Publishing
Legacy of the Highlands by Harriet Schultz
won from author and Beth@ Beth Ann Masarik
Purchased or Downloaded:
Today's Stops on the Fiery Hot Reads for Ice Cold Nights Hop
Check out these awesome posts and giveaways! Each day different blogs will be participating so be sure to check in daily for your chance to win and discover new Fiery hot reads!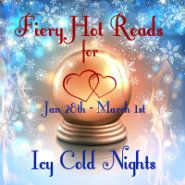 Barbara@
Basia's Book Shelf
:Michelle Leighton: Bad Boy










Peace, Love and Books!
link-up :)
Labels: Atria, book haul, Entangled Publishing, Penguin, random house, Simon and Schuster, Sunday Post