The Secret Vol 1-5 by H.M. Ward: Review/Excerpt/Giveaway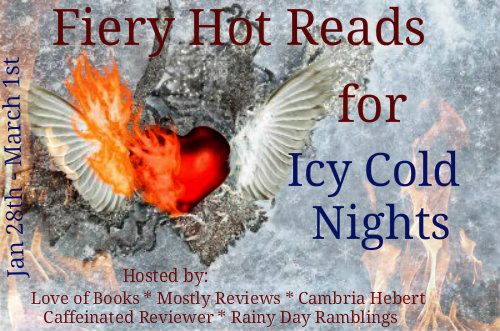 Today I am delighted to share H.M. Ward's Secret
serial
for the Fiery Hot Reads for Icy Cold Nights Blog Hop. Check out my mini- reviews, read a scene between Anna and Cole from Volume One and enter to win the series, then go visit the other hop stops today!
Secrets
by H.M. Ward
Serial
: Secrets #1
Publisher: Laree Bailey Press
Publication date: August 18, 2012
Genre: New Adult Contemporary Romance
Purchase*: Barnes and Noble/Amazon
Sex is supposed to be sexy, tantalizing, and completely erotic, but Anna never seems to find the right guy. This one seems to be a germ-a-phobe, and the previous boyfriend wasn't much better. Anna just wants to be wanted. Is that too much to ask?

As she tries to wiggle out of one relationship, a new one surfaces, but it's forbidden. Cole Stevens is twice her age, arrogant, rich, sexy as hell, and her boss. When Anna's internship plans derail, she ends up interning at Cole's elite New York City studio. Close proximity leads Anna to discover that the billionaire bachelor is emotionally scarred. Everyone has secrets, but Cole's run deeper, cutting him to his core. Cole is trouble in a sexy shell. He's nothing Anna needs and everything she wants.
In the first novel we meet Anna an ambitious college photographer interviewing for her internship all while dealing with her strange but sweet boyfriend; Edward. This was fun, evenly paced and filled with twists that made me laugh. I loved the interaction between Cole and Anna from the onset, and really felt their chemistry.
Secrets 2
by H.M. Ward
Serial
: Secrets #2
Published: August 25, 2012
Purchase*: Barnes and Noble/Amazon
Sexy thoughts about Cole fill Anna's dreams. Every detail burns brightly in her mind; the way his hands feel on her bare skin, the soft brush of his lips against hers, and the way their bodies fit perfectly together. Anna awakes breathless, tingling as if it really happened. What caused her to think about Cole like that? It was completely forbidden.

And Anna didn't feel that way about him, at least she didn't think she did. Cole was fun to flirt with, that's all, and the sexual tension between them was normal, right? Everyone has that from time to time with some super-hot guy. It made sense. Her mind was just telling her that she needs a boyfriend. But what if Cole's the right guy? What if he's right there and Anna lets him slip through her fingers? Cole's more than she bargained for, with enough sex appeal to make Anna realize everything she's been missing.
In the second book of Secrets Anna begins to make decisions and step out of her comfort zone as she embraces the photography style Cole uses. Cole drove me batty with his cold/hot moods and I so want to know what is driving him. Anna needs to decide what she wants from Cole and go after it. The sexual tension between these two literally oozes from the pages. I am hoping more is revealed in the next volume.
Secrets 3
by H.M. Ward
Serial
: Secrets #3
Publication date: September 8, 2012
Purchase*: Barnes and Noble/Amazon
When Anna admits she's falling for Cole she can't believe his response. He pushes her away with an excuse that seems too flimsy to be real. Crushed, Anna continues working at Cole's Long Island studio, but she can't stop thinking about him. It isn't until Anna is called into the dean's office that the real trouble starts. To make matters worse, Edward keeps popping up at the worst times reminding her of everything she wants to forget.
Holy cow..so much happens in the third installment of Secrets. Cole is obviously tormented and we discover why. Poor Anna; everything is upside down for her in this one, and Edward is really starting to creep me out. Oh and there is a certain hoity-toity bitch I want to whack over the head with my heel. *too violent?* We get some hotness and a whole lot of reason to quickly grab book four..LOL
Secrets 4
by H.M. Ward
Serial
: Secrets #4
Publication date: November 20, 2012
Purchase*: Barnes and Noble/Amazon
At night, when Anna closes her eyes, everything comes rushing back; the sensuous sound of Cole's voice, his scalding touch, and the way his eyes roved over her body like he could never get enough. Flirtation, promises of passionate sex, and nights filled with Cole's sexy smile are gone. Anna worries that her crush on Cole was something more, because her life is total agony without him.

Anna realizes she's at a turning point. Someone burned her. This isn't a little blister that would go away on its own, it's an inferno that destroyed everything it touched. In a matter of minutes, Anna lost her future and the man who holds her heart. Anna has to decide how and when to get even with the person who destroyed her life—Sophia Sottero
We get some answers in Secrets 4, but things get complicated for Anna. Anna decides to put Cole behind her, but then as she uncovers the truth things get complicated. I found myself completely captivated. Who is trying to hurt Anna or are they trying to hurt Cole...so many questions eep! Upon finishing this one, I immediately began reading book 5 because I need answers and some resolution..please!
Secrets 5
by H. M. Ward
Serial
: Secrets #5
Publication date: December 21,2012
Purchase*: Barnes and Noble/Amazon
The pounding in Anna's heart rings in her ears as she sits naked in the tub. The bath water sloshes around her bare hips, even though she tries to stand without making a sound. All this time, Anna thought someone was following her, but every time she turned around no one was there. The chills that climbed up her spine those few times seemed silly, but not now. Now, they seem horrific.

Cole is gone, Emma is at work, and Anna is completely alone. A shadow darkens the space under the door. The metallic clink of a hand touching the knob sends Anna out of her mind. Pulse pounding in her ears, Anna has no other option, but to open the bathroom door and come face to face with her stalker.
Secrets 5 the last book is very climatic and a lot is revealed. I love the way Ward threaded all of the piece together in this action packed and intense conclusion. Anna and Cole's romance was a whirlwind but I enjoyed every delicious moment. I am so glad I read this series.
I really enjoyed these serials. I think I would have just preferred one novel, but I am very glad I read them and certainly got caught up in Cole and Anna's story.
Three and half Irish creme coffees out of five for the series
Excerpt from vol 1
"I feel restless, like I won't ever be satisfied. Cole's hands are warm. His smooth skin slides over my bare waist as he kisses me harder. My lips burn, they throb as I pull him closer to me. His thick hair is tangled in my fingers, his strong arms around my waist, pulling us closer—tighter together. Heat fills me. A burning desire to feel him inside consumes every thought I have.
There is nothing but him and me.
My nails claw his back as his kisses leave a hot trail down my neck. Our clothes are gone. It's just his slick body against mine, but he won't take me. He won't push inside of me. I cry out, saying his name, begging him to take me. The third time I plead, he answers me. Without a word, he flips me over. I land on the sheets, and look up at him. My legs are splayed before him, completely exposed.
Cole doesn't hesitate. His hard body meets mine and he pushes into me, rapidly, over and over again. I can't stop calling his name. I want him, I want him to fill me with come.
I want things I shouldn't want. I feel things I shouldn't feel.
There is no hesitation, no holding back. We move together like we were made for each other.
A hand shakes my shoulder. The dream shatters, and fades, but the emotions are still flooding my body. The spot between my legs is pulsating like he was really there, even though he wasn't. Slowly, I realize I was dreaming and open my eyes.
Horrified, I'm looking up into Cole's face, "Anna, you okay?" His eyes are concerned, searching my face for answers that I can't say.
Pushing up, I shake the sleep from my eyes, "I'm fine." My voice catches in my throat.
Cole nods and sits on the coffee table across from the couch. He's still watching me. I feel his sapphire eyes on the side of my face, though I don't look at him.
After that dream, I don't think I can ever look at him again. Heat sears my cheeks and I wish I could hide, but there is nowhere to go."
The author is giving one luck US winner (or ebooks for International and those who prefer them)
signed copies of all the books in the
Secrets
serial!!!!
Check out these awesome posts and giveaways! Each day different blogs will be participating so be sure to check in daily for your chance to win and discover new Fiery hot reads!