The Sunday Post #44 ~sharing blog news and book haul
The Sunday Post ~ 44th Edition
The Sunday Post is a weekly meme hosted by

Kimba the Caffeinated Book Reviewer

~ It's a chance to share news~ A post to recap the past week on your blog, showcase books and things we have received and share news about what is coming up on our blog for the week ahead.
Last week was my week for the Fire and Ice Hop and all of the giveaways are still open if you missed them, be sure and check the other blogs linked to my posts! My oldest turned twenty-two this week and I love that she and are reading and chatting about some of the new adult books released. I am so over winter and want my flip-flops and a pedicure how about you?
Last week on the "Fire and Ice" blog we brought you
This week on the blog look for
Secrets I-V by H.M. Ward (reviews-guest post-giveaway)
The Kali Sweet series by Misty Evans (guest post-giveaway)

Blogger Tips and Tricks

His Allure, Her Passion by Juliana Haygert Book Blitz (giveaway)

Take Control TBR Challenge for March 2013

Into the Dark by Stacy Green (review)

Secretly Smitten by Colleen Coble, Denise Hunter, Kristin Billerbeck and Diann Hunt (review)

A Most Scandalous Proposal by Ashlyn Macnamara (review)
Around the Blogosphere
New arrivals to the Caffeinated Cafe
For Review:
courtesy of Harlequin
Ten Tiny Breathes by K.A. Tucker
thanks to Simon & Schuster
A Human Element courtesy of author Donna Galanti
The Registry by Shannon Stoker
thanks to HarperCollins
Personal Haul:
Today's Stops on the Fiery Hot Reads for Ice Cold Nights Hop
Check out these awesome posts and giveaways! Each day different blogs will be participating so be sure to check in daily for your chance to win and discover new Fiery hot reads!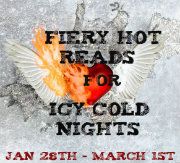 Peace, Love and Coffee and Books!
link up and share your news:)
Labels: blog news, blogger community, book haul, Harlequin, HarperCollins, Simon and Schuster, Sunday Post